Vanessa and Family welcomed little Tadek into the world.
Absolutely delighted to share the news of our VERY FIRST Calm Births Skype baby!! Huge congratulations to Vanessa and family and welcome to the world Tadek, you're just adorable! I can't wait for cuddles!!
This was an experiment to see how effective the course could be over Skype and I'm thrilled to hear that Vanessa was able to experience the true benefits of HypnoBirthing.
"This is my first child and I would have never entered my birthing experience so relaxed and serine without Tara and her hypnobirthing sessions. The breathing techniques allowed me to go through 11 hours of heavy surges, keeping a smile on my face and actually walking to the birthing room at 7cm…the hospital personnel couldn't get over how calm I was.
Thank you for your contribution to my son's happy & natural arrival into this world."
Thank you for your kind words. I am extremely grateful to have shared this knowledge and experience with you. All the very best xx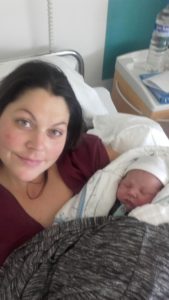 Gemma and Ally welcomed their beautiful Daughter, Ailsa into the world!
"The midwife said that it was a beautiful controlled birth"
"Thank you so much for the HypnoBirthing course. It made the birth an amazing experience for us all. I will recommend it to anyone I know who is pregnant. It really worked!"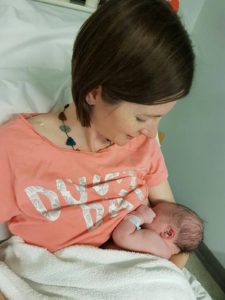 Emma and Dan welcomed their beautiful Daughter, Daisy into the world on Christmas day!
My waters broke at 1am Christmas morning. By 4am my surges were getting quite strong! We were in Peterborough so went to the local Hospital where they said I was to go to my own hospital in Telford. We headed home and at 8am we arrived in Telford where they examined me and I was 3-4cm so they kept me in, they examined me again at 2pm and I was 6cm so was allowed to go in the pool. The surges were getting very strong and I was starting to want pain relief. When I got in the pool it felt a lot better and I had a paracetamol. At 4pm I wanted to start pushing so I did. Problem was surges were not regular and strong. I kept going and at about 5.30pm her head was almost out but surges were coming every 10 minutes, they really died off! Her head eventually came out but her shoulders got stuck so they lifted me out of the pool and put my legs either side of my head and I had to push with no surges, it was a very scary moment but she is fine and the midwives have now told me that my cervix wasn't big enough and with the lack of surges I had it wasn't a good combination. The hypnobirthing helped me get through the surges, the phrase "I'm prepared for any turn my birthing may take" played in my head lots of times! It kept me very calm I didn't panic. Also the midwifes are amazed I didn't tear and needed 0 stitches!!! No one can quite believe me even the midwifes said how shocked they were! Thank you so much for all your help! Xxx